Giovanni is using Shadow Latias in the All-Hands Rocket Retreat Event! Get your Shadow Latias counters ready!
Season of Go raids have been announced in Pokemon Go! Be prepared with counters for the final week of Mewtwo who will have Shadow Ball when caught!
Download full size infograph here.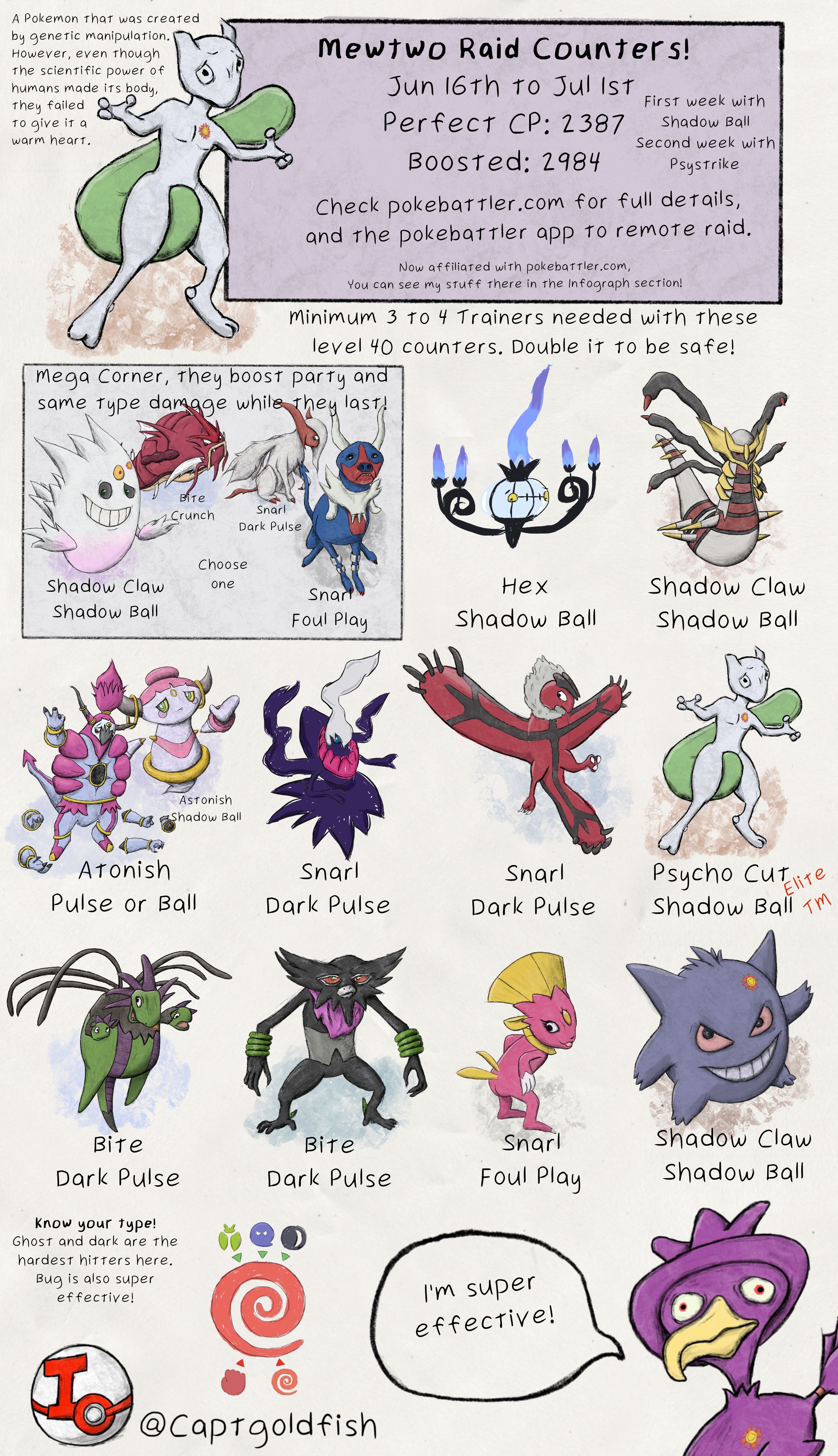 Mewtwo is back! Such an iconic pokemon, for PvE is has seen a lot of competition as a shadow ball user, but it still makes the charts due to its super stats. For PvP it has plenty of power, most often with Psystrike as a hard hitting and quick stab move. Also, you want a green one, right?
What to use, once you get a Mewtwo, put it right back in! Get your ghost and Dark out, Dieno Community day is coming, so make a team of those for future raids, and thank me later. Or not, I'm sure you were doing it anyway.
Go to the official counters page for a complete list, including shadows and megas to see how your Pokémon perform.
@captgoldfish
Pokemon Go Raid Infographics
High quality counters with hand drawn graphics
---
©2019 Pokebattler.com. All rights reserved by their respective owners.
This site is not officially affiliated with Pokémon Go and is intended to fall under Fair Use doctrine, similar to any other informational site such as a wiki.
All Pokémon Go trademarks, copyrights etc are held by Niantic, Inc.; Pokémon; and Nintendo / Creatures Inc. / GAME FREAK inc. Pokémon and Pokémon character names are trademarks of Nintendo.