Giovanni is using Shadow Latias in the All-Hands Rocket Retreat Event! Get your Shadow Latias counters ready!
Season of Go raids have been announced in Pokemon Go! Be prepared with counters for the final week of Mewtwo who will have Shadow Ball when caught!
Deoxys Defense Raid Guide
Download full size inforgraph here.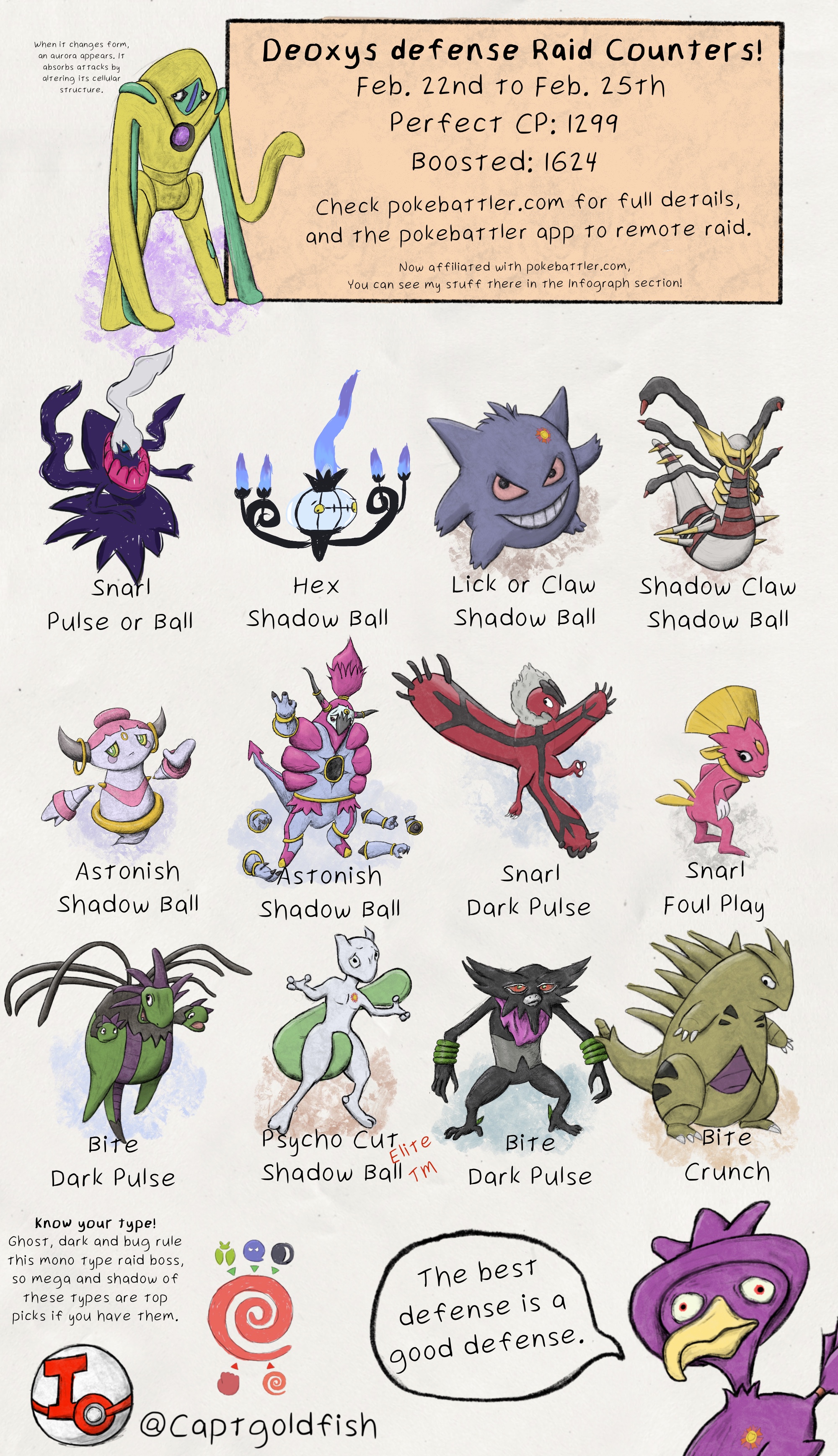 Deoxys Defense, a small portion of trainers that PvP are really getting excited for this, and it's shiny! You can't trade for it, barely been in raids, was in ex raids to begin with, and became a very good Great League, and now very good XL Ultra League pokemon. You non PvP raiders, fill out your dex, but maybe help these poor PvP players win these raids, it's not as easy as the other Deoxys.
How to beat this one? Ghosts and dark, just like all the other deoxys, just a little more ghosty than the others. Lead with a ghost just in case you get some guy using Mega Gengar, but.. maybe dark because they just got a Mega Houndoom? I don't know, maybe talk ahead of time? That's a thing right?
Go to the official counters page for a complete list, including shadows and megas to see how your Pokémon perform.
@captgoldfish
defense deoxys Raid Guide
Pokemon Go Raid Infographics
High quality counters with hand drawn graphics
---
©2019 Pokebattler.com. All rights reserved by their respective owners.
This site is not officially affiliated with Pokémon Go and is intended to fall under Fair Use doctrine, similar to any other informational site such as a wiki.
All Pokémon Go trademarks, copyrights etc are held by Niantic, Inc.; Pokémon; and Nintendo / Creatures Inc. / GAME FREAK inc. Pokémon and Pokémon character names are trademarks of Nintendo.